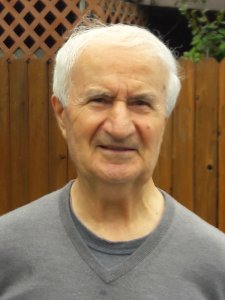 Sotiris Christou was born in a farmhouse near the southern Greek city of Dimitsana to sheep and goat farmers. He and his sisters had daily chores and they walked barefooted to school an hour each way. He lost both his parents at seven years old, yet God worked through this tragedy.
Sotiris was brought to an uncle in Athens where he was trained as a shoemaker and delivery person. He continued his schooling and had an opportunity to learn English, which would prove useful later in life.
Everyone wanted to go to the United States for the opportunity to make a fortune, and Sotiris made it to America as well, but found a different type of fortune in Jesus Christ. Everything changed when he surrendered his life to the Lord, and with God's help, he was able to establish a dowry and home for his sister. He thanks the God for the opportunity to help others.
God showed Sotiris a different plan for his life and the Lord has given him a gift no one can buy… eternal life! Since then, Sotiris has not stopped sharing the good news of what God has done for him alongside offering quality products at reasonable prices through Sotirios Food Products.